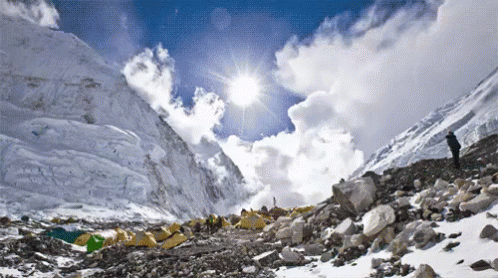 Climate change to blame for up to 17 deaths on Mount Everest, experts say
Experts say this is likely to be one of the deadliest years on record on Mount Everest, with variable weather caused by climate change being blamed as one of the main reasons for the deaths of up to 17 people. It would make this year one of the worst on record for deaths on Everest, matched only by the events of 2014 when 17 died, most of whom were local sherpas killed in an avalanche.
On average, between five and 10 people die on Everest every year but recent years have seen a spike. Among those who lost their lives climbing Everest this year were Jason Kennison, a 40-year-old mechanic from Australia who had overcome spinal injuries to climb to the top but could not make it back down, a Canadian doctor, Pieter Swart, and three Nepalese sherpas who died in an avalanche in April.
This year has been more deadly than 2019, when images went viral of overcrowding and "Carnage" on Everest, with hundreds of climbers waiting up to 12 hours to scale the mountain and reports that people were forced to clamber over bodies and incapacitated climbers. "The climbing has pattern has changed, it used to be hardened climbers but now it is a lot of novice climbers who want to get to the summit of Everest," said Sherpa.
Experts and celebrated mountaineers have warned that Everest, which tops 8,848 metres, is now seen as a "Tourist destination" and a playground for the thrill-seeking rich, even those with little experience of climbing at high altitude, who are willing to pay upwards of £48,000 to be guided to the summit. Alan Arnette, a mountaineer who climbed Everest in 2011 and now writes regularly on conditions, said this year had been "Chaos".
The high number of climbers is also escalating the problem of the massive amount of rubbish left strewn on Everest.
Read In Detail