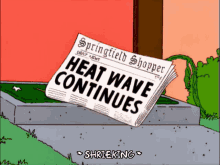 Heat Waves Grip 3 Continents as Climate Change Warms Earth
Punishing heat waves gripped three continents on Tuesday, breaking records in cities around the Northern Hemisphere less than two weeks after the Earth recorded what scientists said were likely its hottest days in modern history. The warmer temperatures contribute to extreme weather events and help make periods of extreme heat more frequent, longer and more intense. The Far-Reaching Effects of Extreme Heat System Inequities: High temperatures in southern Europe have highlighted a deep divide between those who can afford to shelter from it, and those who cannot. Breaking a Record: On July 18, Phoenix reached a heat milestone: It was the first time the city had measured 19 days in a row of 110-degree or higher temperatures, busting a record set in 1974.
In the United States, Phoenix broke a nearly half-century-old record on Tuesday, with the city's 19th consecutive day of temperatures above 110 degrees Fahrenheit. In Rome, where the temperatures surpassed 100 Fahrenheit on Tuesday, officials mobilized a task force to hand out water and help people suffering from heat stress at sites like the Colosseum and outdoor markets.
The Japanese authorities have rushed to help people suffering from the heat: At a festival in Kyoto on Monday, nine people, ranging in age from 8 to more than 80, were taken to a hospital as temperatures neared 100 degrees Fahrenheit.
India recorded the hottest February in its history, then endured high temperatures in April, when 11 people died of heat stroke on a single day, and again in May and June. At Persian Gulf International Airport on Iran's southwestern coast, the heat index - which measures how hot it really feels outside based on both temperature and humidity - hit an extraordinary high of 152 degrees Fahrenheit at 12:30 p.m. on Sunday, according to weather data.